A quick guide to the uTheory teacher backend
uTheory is one of the most powerful online learning platforms in the world — and you can use it to supercharge your students' music theory learning.
uTheory is a mastery-based learning approach to music theory. It's a platform that brings interactive video lessons, practice, and mastery testing for music theory all together into one place. Learn more about why we built uTheory and our philosophy.
---
Classes
To get here go to uTheory → Teach → Classes
In uTheory, the primary means of interacting with students is through classes. Classes are groups of students— you might have one for Music Theory 101 and another for 3rd Hour Choir, for instance. Classes let you see and track your students' progress and set specific requirements.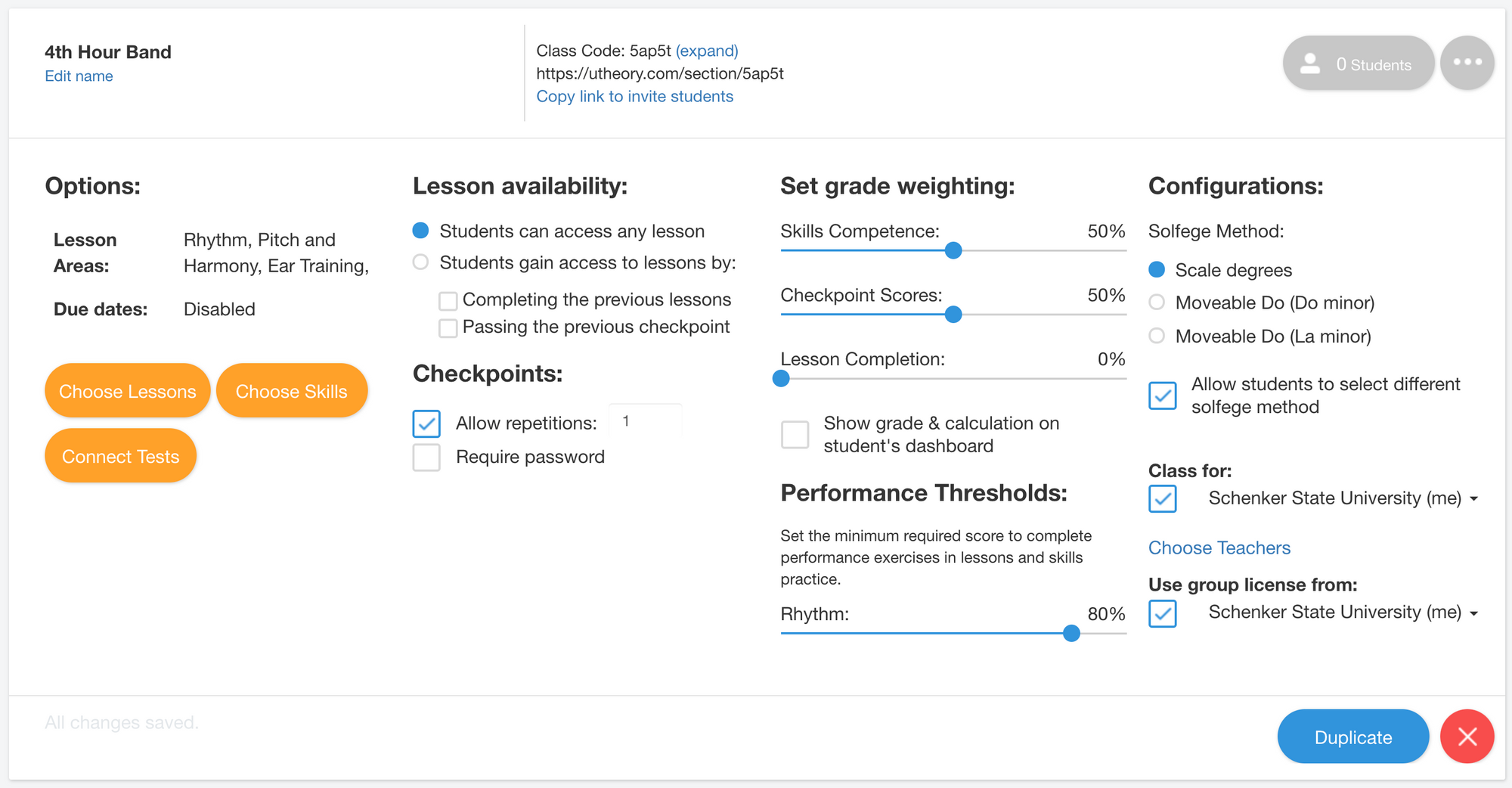 Working with Classes:
Lesson and Checkpoint Test Settings
To get here go to uTheory → Teach → Sections → "…"
With uTheory, you can configure what lessons are visible, required, optional or hidden for students in different sections, set due dates (if desired), and optionally limit access to lessons until students have completed the prior lesson or checkpoint mastery test.
Read more about configuring lessons & checkpoints.
Individual and Group License Pricing
uTheory is free for teachers. To create a free teacher account, go to utheory.com/teach. Teacher accounts can be used with or without a license.
Students can subscribe individually, to get access to more than the ten lesson pages or activities they're allowed daily on a free plan, or you can purchase a discounted group license for five or more students to give them unlimited access. License prices begin at 50% off the individual rate, so many schools purchase a group license and then pass the reduced fee on to students as a materials fee.
To see current student pricing, click here.
To learn more about group licenses, click here.
Customized Placement Testing
To get here go to uTheory → Teach → Tests
uTheory can be used to create customized tests and placement tests for students. Students who take a uTheory placement test get feedback and recommended lessons and practice in any areas they struggled in so that they can have the chance to build their skills and retake the test. We call it "pre"-mediation, and it's part of our goal to make sure every student who wants to pursue a degree in music is ready for college-level music theory.
Read more about placement tests.
uTheory Teacher's Guide
Download the uTheory Teacher's Guide for a quick reference to this information.
Still have questions?
We'd be delighted to answer them.  Drop us a note at support@utheory.com and we'll be in touch shortly!