We are excited to announce new updates to uTheory for both teachers and students, based on the list of most-requested features from you. These are all now up and running and available today in uTheory!
Testing Features
The purchase of a group license now include access to testing features. Initially designed to be used as placement exams, tests can now be accessed, created, and connected to uTheory classes by any teacher with a group license. Tests are completely configurable – you choose the topics to include, how many questions for each topic, and how much time to allow for each section of the test. Other settings you can control include the passing requirements, amount of time per section, number of retakes allowed (and subsequently, whether the most recent or highest scoring test attempt will count), instructions, and other features available in the test settings. Students get immediate feedback on their performance, so if you allow multiple test attempts, they'll have direct access to lessons and practice to improve their skills before retaking the test.
See here for more on testing with uTheory.
Student Accommodations
At uTheory, we're working hard to make music theory, rhythm and ear training learning accessible to everyone. We've already made major progress in this.
And, as of today, teachers can create accommodations for the amount of time allowed and accuracy required on an individual student basis. Tests that are linked to a class will automatically include accommodation settings for students from the class.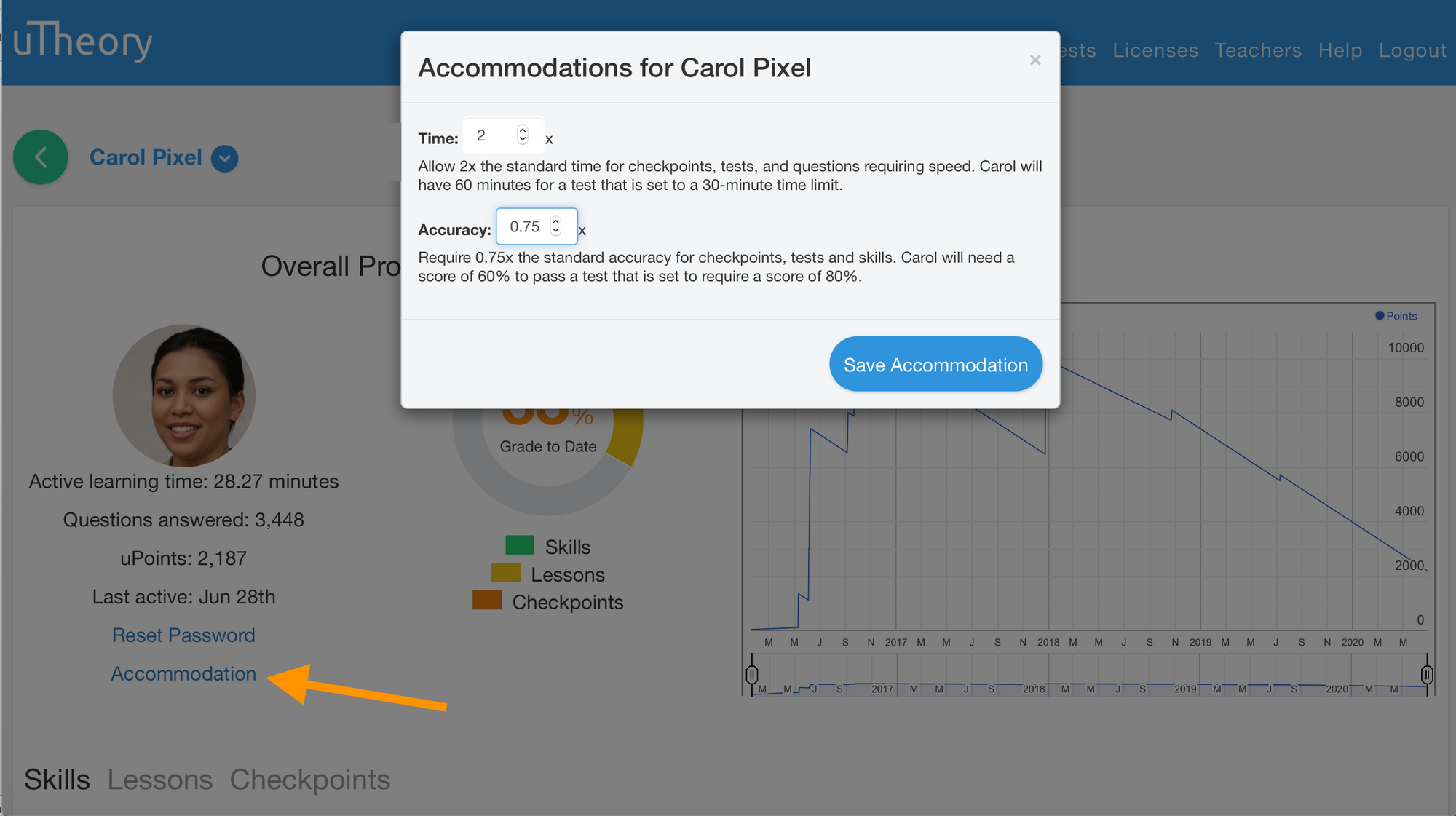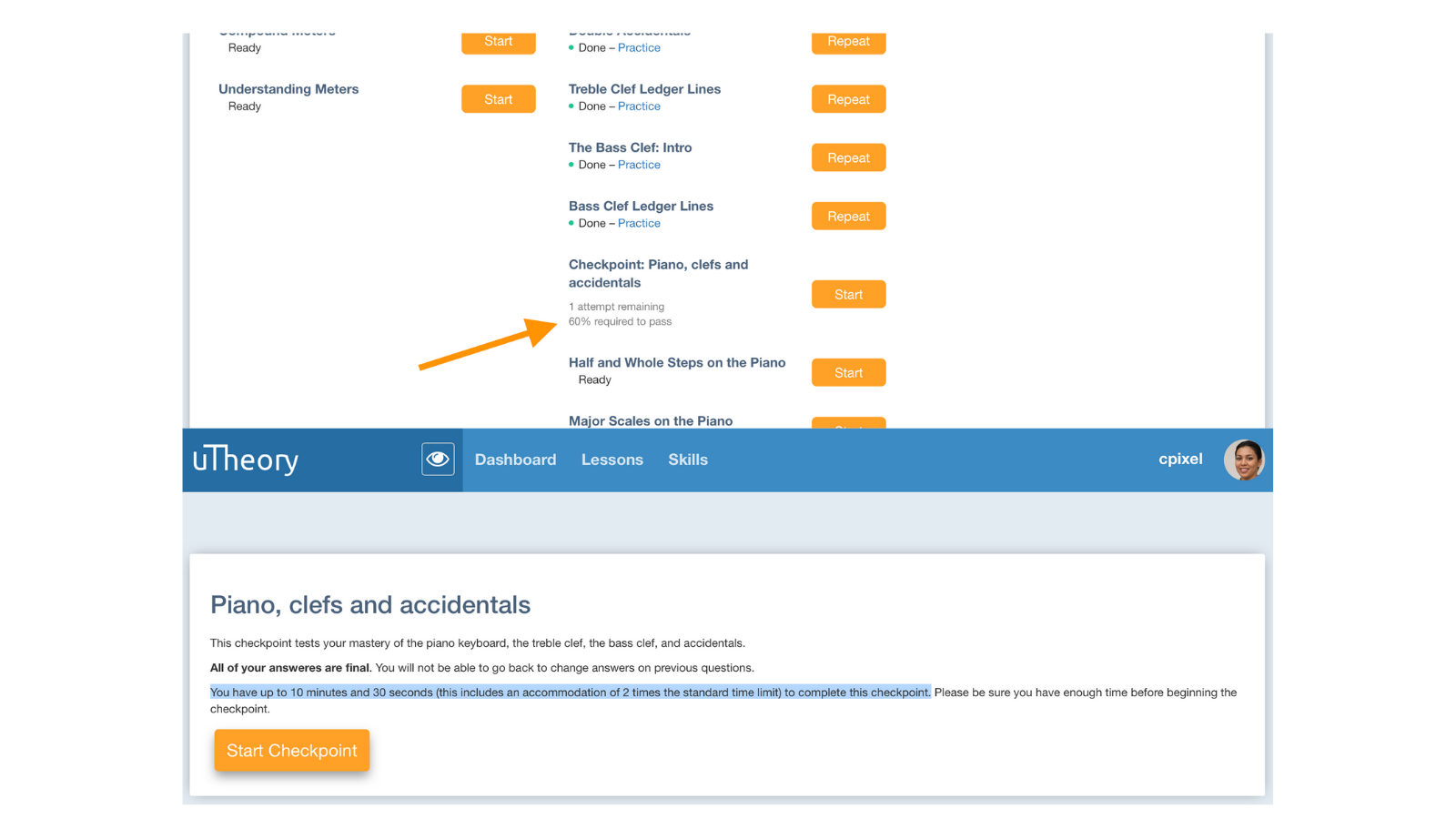 See here for more on student accommodations.
Google Login
Teachers and students can now register or log in with Google - no more forgotten passwords!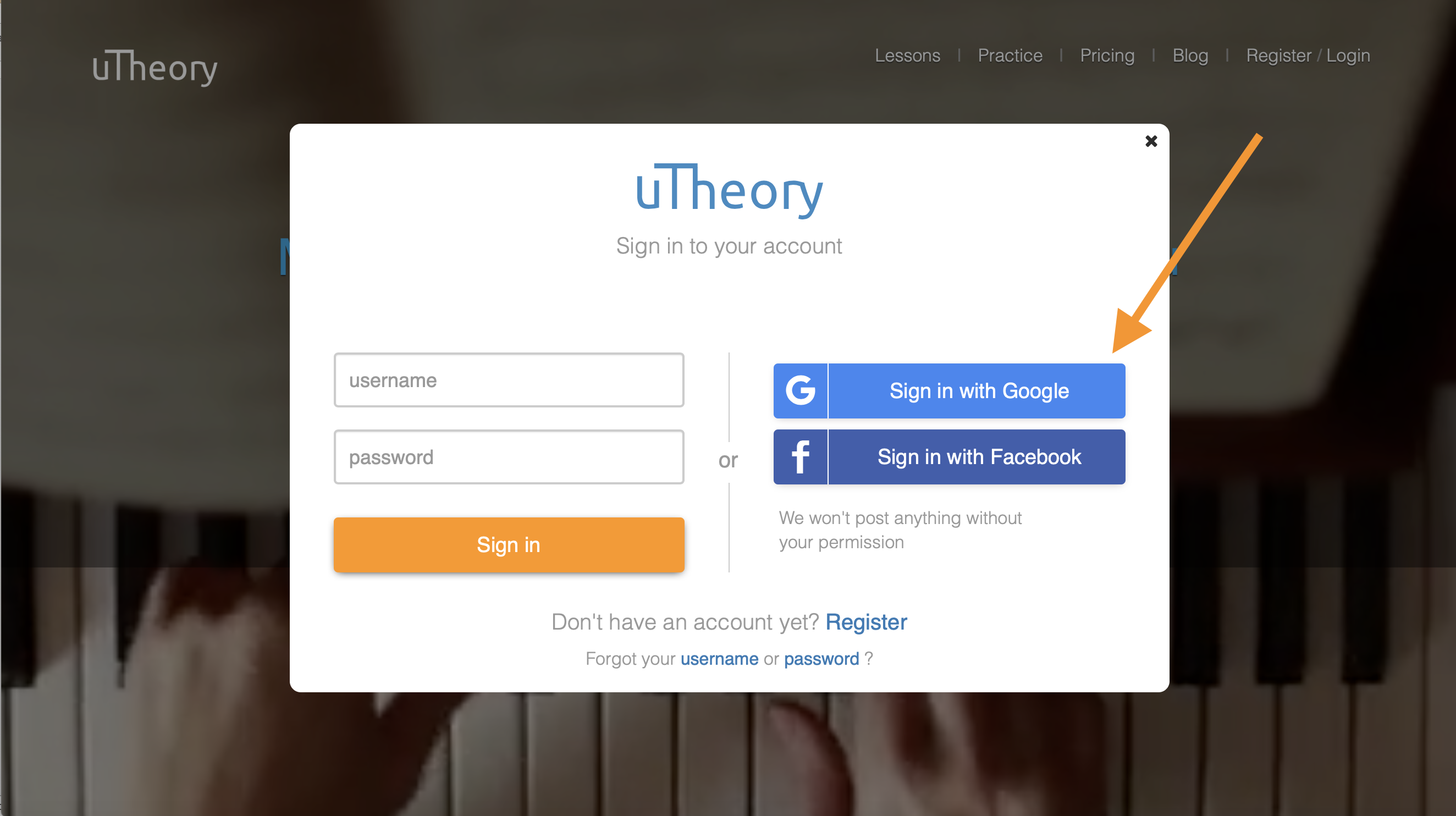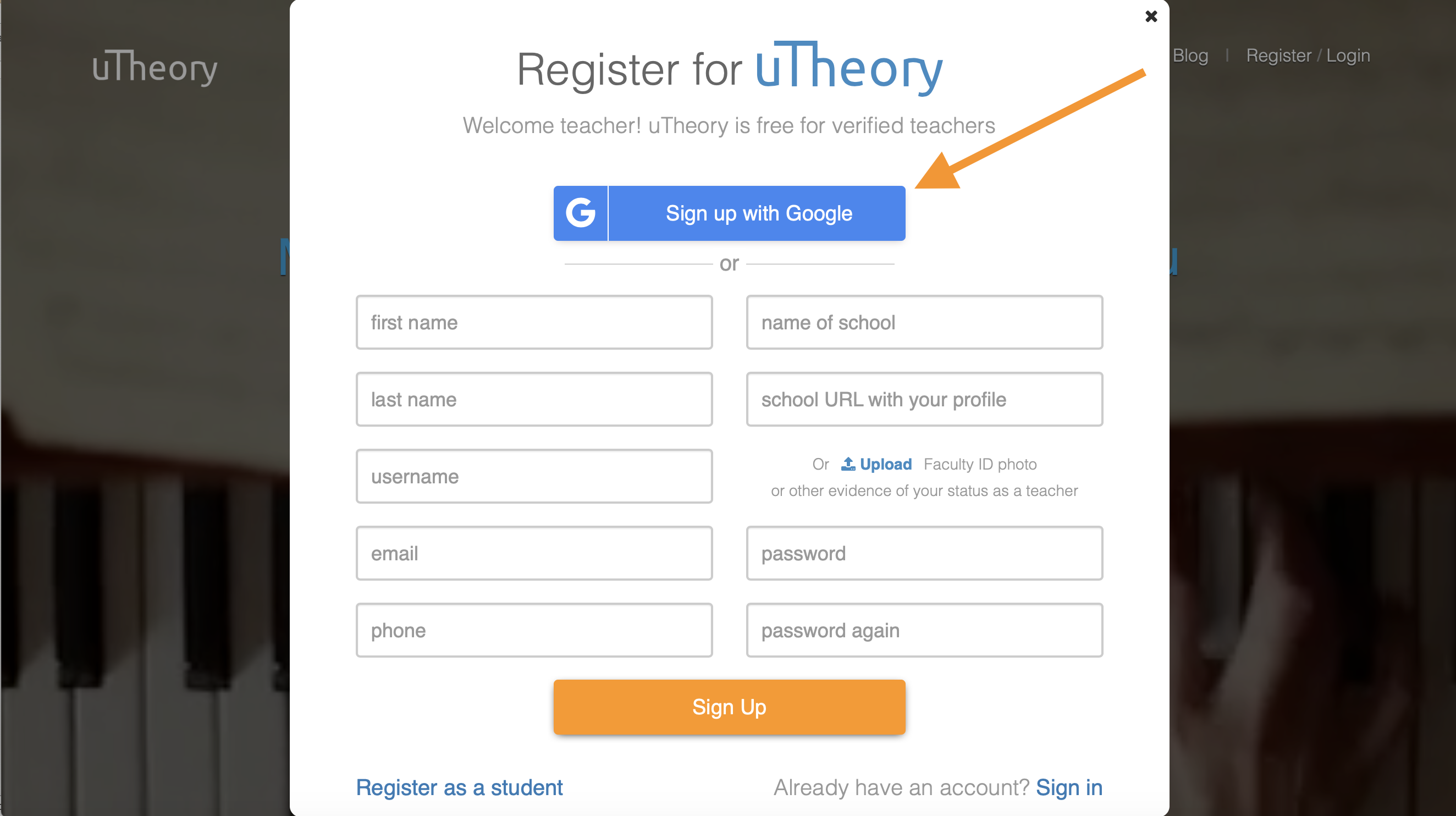 If you already have an account that uses your Google email address, you'll be able to connect a Google account to it when you log in by using Sign in with Google.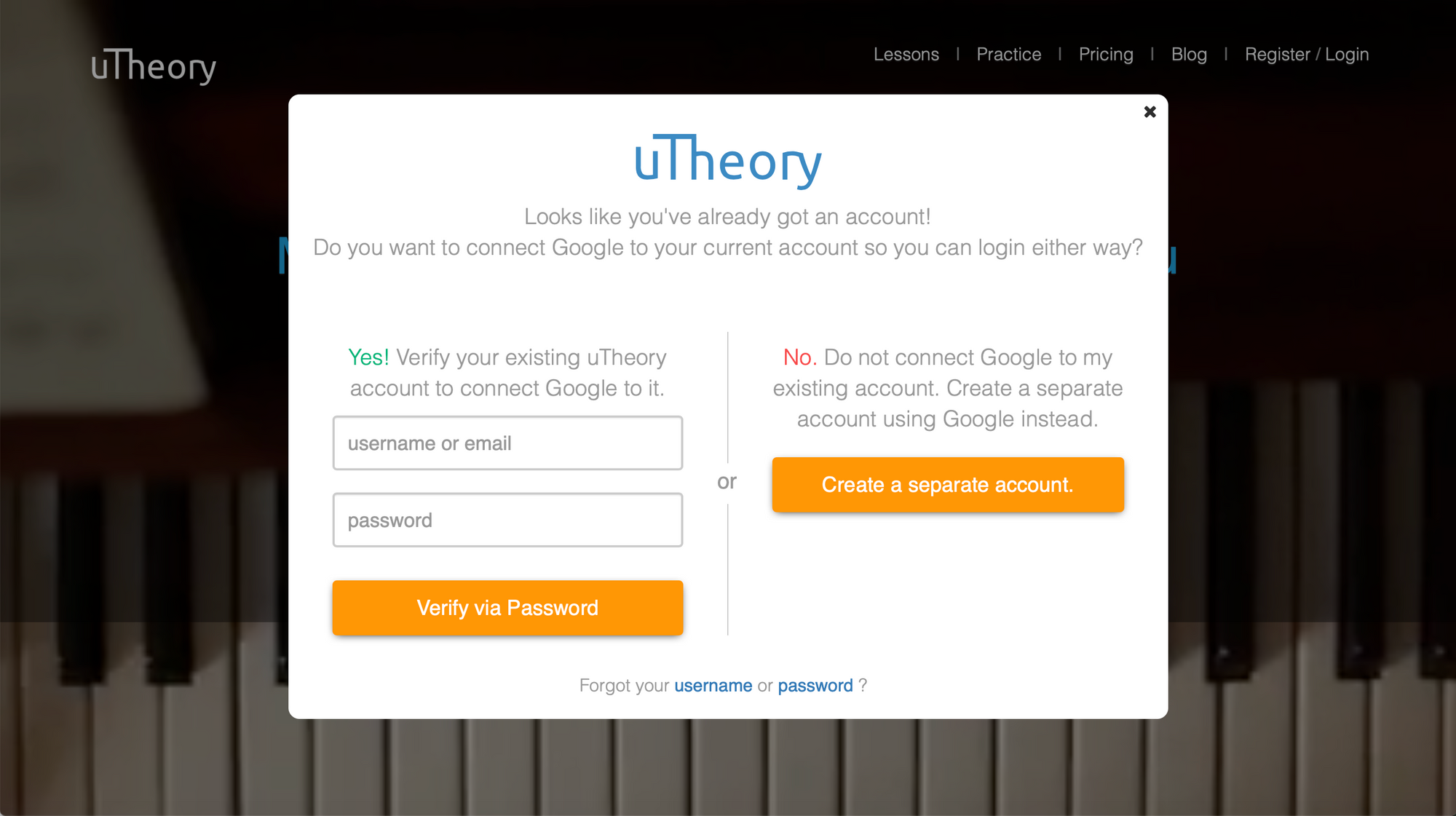 Multiple Enrollments
Our top music students often take more than one music class, and if you're using uTheory across your school, there's a good chance several classes may be using uTheory. It's now possible for students to be in multiple classes on uTheory at once, and for their work to synchronize between the classes.
Previously, when students were sent an invite link to a uTheory class, they would be removed from their current class when they accepted the invite. Now, they will be added to the new class, and will also remain in their original class. (If you need to remove a student from a class here's how to do that.)
Students can switch which section they're viewing at any time by selecting the class viewer (eyeball), so they can work on the requirements for each class. And, now all students are shown a welcome message on the dashboard with the name of their class.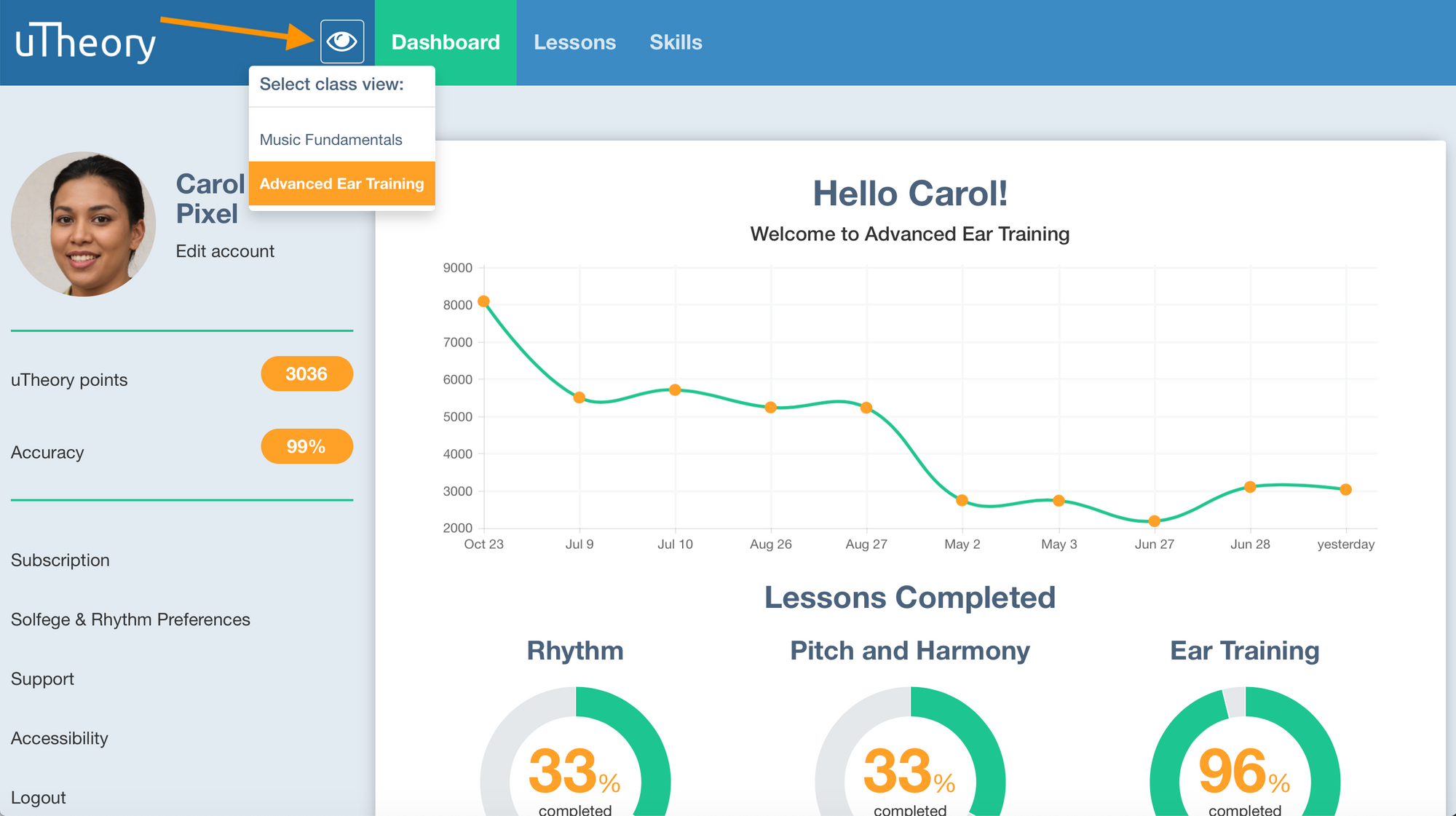 As a teacher, you'll see the student listed in both of your classes. Their grade to date and scores will be calculated separately for each class, based on the class settings you've chosen.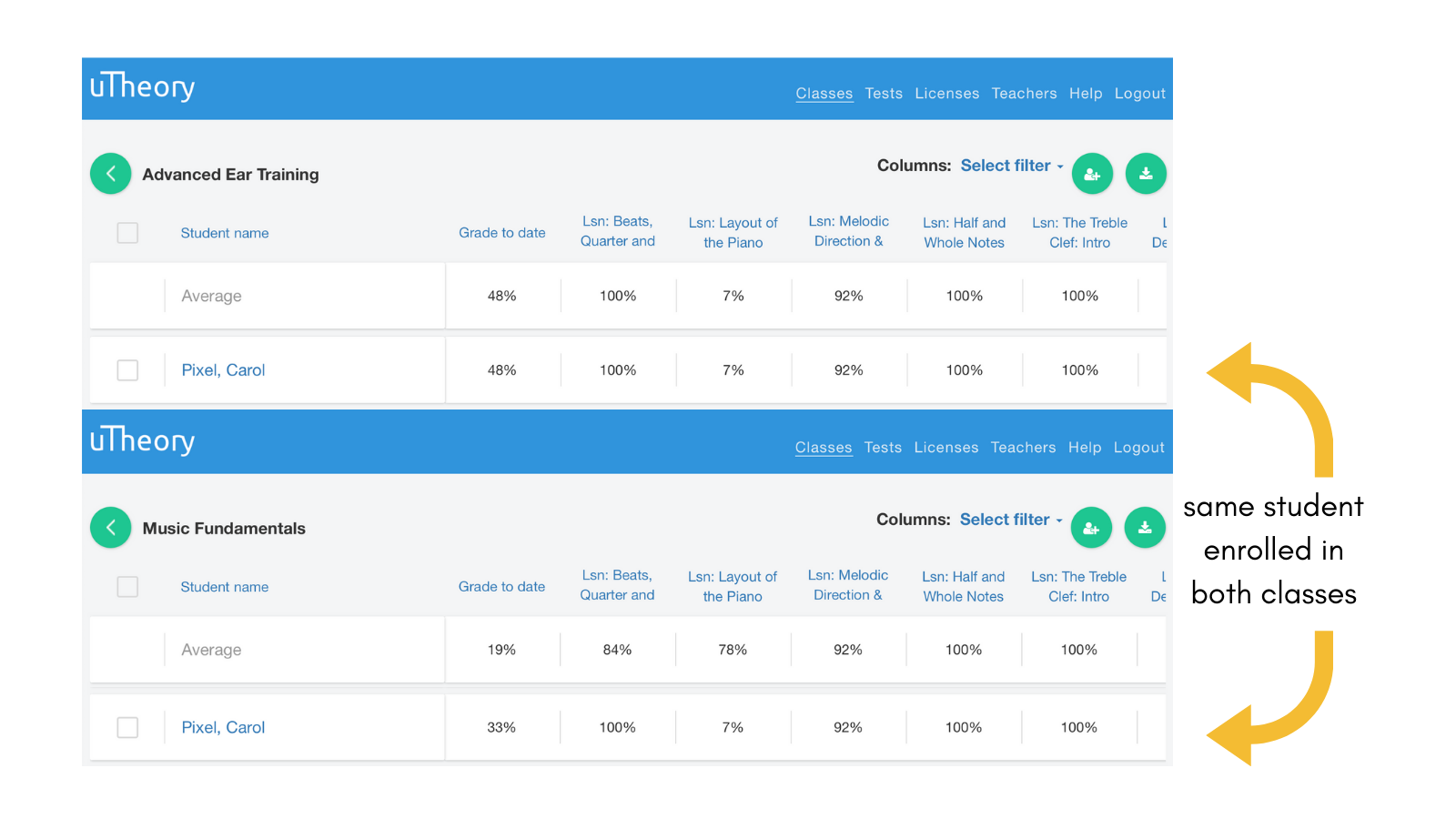 Coming Soon
We're not stopping with these. We have lots of new features and content planned for the coming months. And if you have something you'd like to see, let us know at hello@utheory.com. Your feedback helps us guide the direction of uTheory!
Here's what our developers are working on now:
Google Classroom Integration
Google Classroom integration will make it possible to synchronize your Google Classroom courses with uTheory, and to make uTheory assignments appear within Google Classroom. Students and rosters will also be synchronized between the platforms.
Import Students from Spreadsheet
We know that to simplify things for their students, teachers like to be able to create accounts automatically for their students. Now, you'll be able to upload a spreadsheet to do that in bulk, rather than going through the registration process separately for every student.
Student Activity Feed
You can already see a student's answers for checkpoints and custom tests. Soon, we'll be implementing changes to make it possible to see all of the questions a student has answered in uTheory, to give you an even more detailed view of their work. You'll be able to see both their right and wrong answers, and how long they spent on each answer attempt.